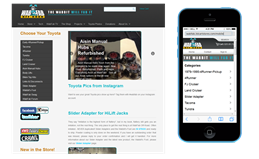 We've successfully migrated WabFab.org from the legacy Joomla 1.5 platform to a Joomla 3.2 / 3DCart online store. Total time for this migration was around 50 hours.
The main site still uses joomla for content, tech info, instructions, and photos, while the new WabFab.org store runs on the 3DCart platform. The migration was relatively painless and included over 700 products migrating from Virtuemart 1 to 3DCart.
The new site is more robust, supports better search engine friendly URLS and is fully responsive. Both the site & store look great on any device you're using.