Beau Johnston named Editor in Chief, Heather Swearingen of IH8MUD.com joins the team

Toyota Cruisers & Trucks Magazine (TCT) and parent company Zaxyn Media, LLC have announced very important changes leading up to the summer backroad adventure season.
In an effort to further streamline editorial production across digital, PDF, app, and website platforms, Publisher Shane Williams has named Beau Johnston as the new Editor in Chief of TCT Magazine. Beau has been with TCT since its inception and is a long time Toyota outdoor enthusiast. In his new duties, Beau will coordinate content for each issue with Managing Editors and Contributors as well as key partners.
Beau's Living Overland.com blog is one of the most popular in the segment, and Beau has grown the TCT Overland Section far beyond its original charter. While Krista Johnston will remain the Outdoor Life Editor for TCT Magazine, the overland section editing duties will now be shared by all other managing editors.
The magazine is also excited to announce a deeper partnership with the top Toyota forum, IH8MUD.com. In addition to the existing media partnership, soon all TCT Magazine Editors will be available for Q&A, 'ask me anything', and collaboration via an exclusive sub-forum on the popular discussion website. This new feature will provide Toyota enthusiasts from around the world the opportunity to interact directly with editors from the top Toyota magazine.
Toyota Cruisers & Trucks is also happy to announce Heather Swearingen from Tie Rod Media LLC as our new digital editor. Heather brings her vast experience from her work on IH8MUD.com, RockCrawler.com and UTVWeekly.com to TCT and will help enhance all aspects of the TCT Magazine website (http://tctmagazine.net). Future plans include additional web-native content, enhanced video production, as well as more user submitted articles, photos, and feedback.
About Zaxyn Media, LLC
Zaxyn Media, LLC is a leader in new media publishing, 21st century technology and GIS consulting, organic content creation, and the publisher of several specialty products for the 4x4, off-road, and overland communities. In addition to publishing Toyota Cruisers & Trucks Magazine, Zaxyn also operates several leading informational websites such as OffRoadTrailerInfo.com, Way2Tread.com, and AdventureInsider.com. Zaxyn can be contacted through http://www.zaxyn.com or at 303-578-9868
About Tie Rod Media
"Tie Rod Media LLC is the parent company for IH8MUD.com, RockCrawler.com and UTVWeekly.com. TRM is one of the last small/privately owned web community companies, and maintains a very personal interest in their online properties.
IH8MUD.com has developed since the late 1990's from a personal page of links to a complete online resource for Toyota owners to discuss technical issues regarding their vehicles, plan and organize trail rides and events, and bring together their club discussions. RockCrawler.com was established in 1997, and is a well-recognized online news resource for the offroad community.
RockCrawler offers FREE online publication of offroad-related news releases, new product and press, land use coverage, and event/competition coverage and photos.
UTVWeekly.com was developed in 2009 by Bower Media and purchased by Tie Rod Media in 2013. This online publication covers the latest news, products, event and race coverage from the rapidly expanding UTV/Side-by-side market.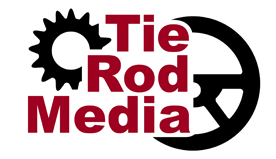 About Living Overland.com
The gourmet recipes and equipment reviews you need to make your overland trip a success. A passion for the outdoors and sharing quality meals with family and friends lead Beau and Krista Johnston to develop Living Overland, a blog dedicated to sharing these passions with the world. Beau and Krista want to help people understand that by utilizing a few time saving steps, they too can prepare delicious meals while camping.